Newswise — HUNTSVILLE, Ala. (Oct. 12, 2021) – Development of a new concept for a solid-fueled ramjet using a rotating detonation engine (RDE) for hypersonic air-breathing propulsion at The University of Alabama in Huntsville (UAH), a part of the University of Alabama System, has attracted a three-year, $1.5 million grant.
The project's principal investigator is Dr. Gabe Xu (pronounced shoe), an associate professor of mechanical and aerospace engineering. Funding comes from the University Consortium for Applied Hypersonics (UCAH), a U.S. Department of Defense (DOD) funded initiative managed by Texas A&M University in which UAH is a partner. The research is included in the first set of grants issued by UCAH.
"The main goal of the project is to demonstrate feasibility of the concept by developing some of the 'tall tent pole' or high-risk components," Dr. Xu says. "The research will be a combination of experiments and computational modeling."
Ramjets are a class of air-breathing engines that utilize the forward motion of the engine to compress the incoming air for combustion without the need for a mechanical air compressor. The UAH research marries that function to an RDE engine. Instead of burning the propellant in a traditional flame, RDEs use spinning detonation waves – essentially explosions – to further compress and combust the fuel and oxidizer to create hot gas and generate thrust.
The two main objectives of the UAH RDE ramjet experiments are identifying a solid fuel formulation that will vaporize/pyrolyze at ram air heated temperatures but does not actually burn, and designing and configurating fuel and air injectors with a manifold to feed the ram-heated fuel into the RDE.
Dr. Xu's Plasma and Electrodynamics Research Lab will do the work through UAH's Propulsion Research Center (PRC) and will rely heavily on PRC facilities and staff, as well as industry partners CFD Research Corp. (CFDRC), Quadrus Advanced Manufacturing and Aerojet Rocketdyne (AR).
"CFDRC will conduct the computational modeling and work with us to find fuel formulations and injector designs," says Dr. Xu. "Quadrus will provide metal additive manufacturing capabilities to produce the complicated injectors this concept will require. AR is providing subject matter expertise support, due to their extensive work on RDEs and hypersonics."
Dr. Robert Frederick, PRC director, and Dr. David Lineberry, a PRC research engineer, are leading the solid fuels development part of the UAH project. Tony Hall, a PRC test engineer, is assisting with the experiments.
"They will be critical to the project, as they have the experience in operating the various equipment at UAH's Johnson Research Center," Dr. Xu says.
Dr. Frederick was part of the UCAH team that helped Texas A&M land its contract with the government. He served as the lead for the propellant and energetics portion of the proposal.
"For the fuel, it is crucial that the new fuel formulation can transition to a gas when it encounters the high-temperature air ingested into the engine, but does not combust at that point," says Dr. Frederick.
"The work involves selecting new solid fuel ingredients and studying in detail the types of gas molecules that are generated when the solid decomposes into a gas," he says. "We will use a new mass spectrometer instrument that we recently acquired through a DOD grant to measure these gas species in our UAH laboratories."
Based on spectrometer measurements, the solid fuel ingredients will be adjusted to get the desired gas properties.
"UAH will also provide these data to CFDRC, which will perform detailed modeling and simulation of these gases in the RDE combustor," Dr. Frederick says. "The research will not only develop a new propulsion technology, but also advance the field of solid propellants by characterizing and modeling new fuel formations."
The U.S. Army Combat Capabilities Development Command Aviation & Missile Center is also supporting the fuel development research to help formulate new compositions.
The project will support two graduate students and two undergraduate students for its duration, advancing the workforce development goal of UCAH.
"UCAH's mission is to help develop the U.S. academic base and future workforce pipeline in hypersonics," Dr. Xu says. "And we're very glad to be part of that effort."
As part of a concerted U.S. effort to excel and lead in hypersonics, the UAH research will be for DOD applications, since there is not much current need for solid fueled engines in the commercial sector.
A matter of engineering interest for over 60 years, RDEs are a tantalizing concept that has only been developed and studied as a technology for about the past 15 years. They could be transformative for rocket propulsion, offering better fuel efficiency than continuous-burn solid or liquid propellant engines if the inherent instabilities that make them run can be better controlled.
"I started to gain interest in RDEs around 2015 and wrote a few internal and external proposals in the next few years," Dr. Xu says. "But without the hardware and demonstrated operation, we didn't get anywhere."
UAH's RDE program was jump-started in 2019 by a seed grant from the National Science Foundation's Established Program to Stimulate Competitive Research: Connecting the Plasma Universe to Plasma Technology in Alabama (CPU2AL) and personnel support from the PRC, allowing it to build and test RDE hardware.
The UAH team test-fired its RDE engine in August, 2020, at Johnson Research Center. UAH mechanical and aerospace engineering master's student Evan Unruh, who was heavily involved with the effort, has graduated on the work, Dr. Xu says. Michaela Hemming, a doctoral student in aerospace systems engineering, is currently working on RDE research on a NASA fellowship.
"Now with this new UCAH project, we're finally at the critical mass stage where we can produce novel results and contribute to the technology," Dr. Xu says. "I find it a good example of the challenge of starting something new in research."
UCAH was initiated after Congress authorized $100 million in fiscal year 2020 to set up the DOD Joint Hypersonics Transition Office. In the Congressional funding statement, DOD was instructed to "develop and implement an integrated science and technology roadmap for hypersonics and to establish a university consortium for hypersonics research and workforce development."
About The University of Alabama in Huntsville
Launched from America's quest to conquer space, The University of Alabama in Huntsville is one of America's premier doctoral-granting, research-intensive universities. Located in the second largest research park in the United States, UAH has robust capabilities in astrophysics, cybersecurity, data analytics, logistics and supply chain management, optical systems and engineering, reliability and failure analysis, rotorcraft and unmanned systems, severe weather, space propulsion and more. UAH prepares students for demanding positions in engineering, the sciences, business, nursing, education, the arts, humanities and social sciences.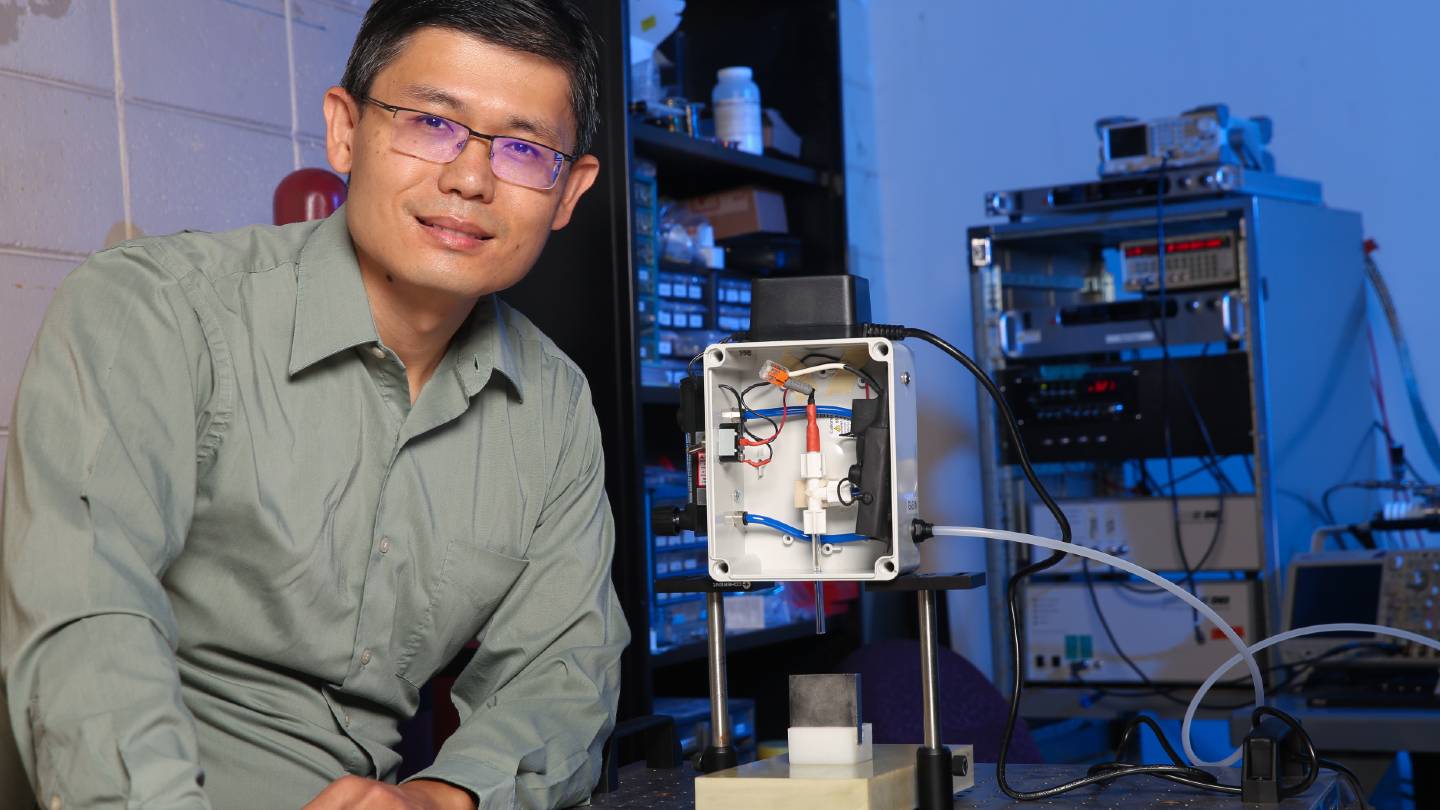 Credit: Michael Mercier / UAH
Recommended For You