Silicon Valley, 16th of July, 2018
This year at the 70th AACC Annual Scientific Meeting & Clinical Lab Expo, we look forward to showing our latest u-CupTM product line of Point-of-Care Drug testing cups. Our extensive menu of in-vitro diagnostics (IVDs) include a variety of instant urine and saliva testing devices (cups and dip-cards), infectious disease, women's health, cardio & tumor markers for US & international markets.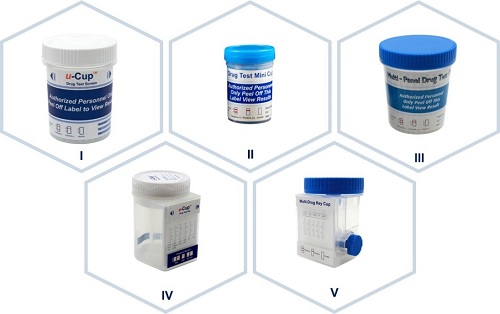 Figure 01. UCP's u-Cups Product Line—u-CupTM—Round (I), Mini (II), Cone (III), Flat (IV) and Key-cup (V)
u-CupTM drug screen cups are available in five different shapes and sizes—Round (I), Mini (II), Cone (III), Flat (IV) and Key-cup (V) (Please see Figure 01). The shapes and sizes of these cups are strategically designed and constantly changing to keep up with the fast pace of industry's demands and consumer's needs. Among them the round cups (I) are the classical one and most commonly utilized drug screen, while mini-cups (II) are smaller in size, yet round shaped and lighter weight. Which provide consumers with a cost-effective option due to lower shipping and waste disposal expenses. Subsequently, cone-shape cups (III) have wider opening and narrow bottom for convenient sample collection, while flat-cups (IV) are designed with a flat front to make photocopying of the test results possible for documentation purposes. Similarly, key-cups (V) are flat front split specimen cups as it is required by some states that presumptive and lab testing samples must be stored and shipped in separate compartments. UCP's u platform represents drug screens that are CLIA waived, 510K cleared, FDA approved and manufactured in FDA inspected and ISO 13485 certified facilities.
Recommended For You