*Photos are available for download on our newsroom*

Newswise — In a set of proof-of-concept experiments, Johns Hopkins researchers have implanted electrodes in both sides of the brain of a person who is mostly paralyzed — with minimal sensation in his hands — to enable him to have some "mind control" of motorized prosthetic arms. Most efforts to create such "brain-machine interfaces" have focused on one hemisphere of the brain with far fewer electrodes, but the Johns Hopkins team used both brain hemispheres to control two limbs.
Researchers say these efforts are believed to be the first demonstrations of success with bilateral sensorimotor intracortical implants, or brain-machine interfaces designed to power movement — but also to sense touch — in people with high spinal cord injuries.
"With this research, we're learning more about how to augment the capacity for people with paralyzing disabilities to move their limbs or perform other activities they can't typically do, just by thinking and sending neural instructions from the brain to sensors attached to their arms," says Pablo Celnik, M.D., professor of physical medicine and rehabilitation, neurology and neuroscience at the Johns Hopkins University School of Medicine.
"It may sound like science fiction, but at this point, our studies have added substantially to evidence that it is possible to use both sides of the brain to control two prosthetic limbs at the same time," Celnik adds.
Celnik and his colleagues are expected to present their findings in four poster presentations during the 2019 annual meeting of the Society for Neuroscience, which will be held in Chicago Oct. 19–23.
For the studies, the Johns Hopkins scientists implanted in January six electrodes the size of large ants into both hemispheres — four on one side and two on the other — of the brain of a person who is quadriplegic but whose spinal cord is not completely severed. The 10-hour surgery, performed by the Johns Hopkins team, was done by opening the patient's skull, placing the electrodes and connecting them via thin wires to a complex computer system
In prior efforts to implant such devices, four electrodes were placed on only one side of the brain. The Johns Hopkins team implanted six electrodes bilaterally in an effort to deliver more stimulation to the brain.
The implants were positioned in motor and sensory areas of the brain to record, send electrical pulses to and "stimulate" areas of the brain responsible for motor control and the sensation of touch.
Over the past nine months, the researchers tested the subject's ability to perform an increasingly complex series of reaching movements in both limbs, shoulders and fingers at the same time, in the same direction, as well as in opposite directions with and without the use of a computer model. The team tracked the patient's accuracy in reaching computerized targets using a prosthetic limb built in virtual reality as well as with a real motorized prosthetic limb.
The scientist also performed tests stimulating the brain and determined where the patient could "feel" the sensations triggered by sensors in the prosthetic limbs. The scientists report that the patient was able to discriminate sensations from all fingers that had sensors attached (four on the right and two on the left) with 100% accuracy.
"Touch is an integral part of movement, so it's important that action commands are paired with the ability to sense the limb to improve the accuracy of movements," says Celnik.
"At this point, we've found that the subject can control both limbs to perform simple reaching movements in a coordinated manner," says researcher Gabriela Cantarero, Ph.D., assistant professor of physical medicine and rehabilitation at the Johns Hopkins University School of Medicine.
The Johns Hopkins scientists say the electrodes can remain implanted in the brain for up to five years, with minimal risk of brain or skin scarring. However, like any surgery, there is risk of infections or bleeding.
The team's next steps are to test more complex bilateral movements and improve the connection between touch sense and motor control.
For more details about the study, visit the Johns Hopkins physical medicine and rehabilitation website here.
The researchers will present the following abstracts during the Society for Neuroscience conference:
Oct. 21, 8 a.m. — "Human brain-machine interface using bilateral sensorimotor intracortical implants" (abstract 315.13)

Oct. 21, 8 a.m. — "Modulation of M1 and S1 neurons to action observation, imagery and execution for brain-machine interface training: evidence from human cortical recordings" (abstract 315.09)

Oct. 22, 8 a.m. — "Intracortical microstimulation of bilateral human finger areas of S1 enabled by MRI, fMRI and intra-operative ECoG mapping" (abstract 486.09)

Oct. 22, 2019 a.m. — Neural responses in human primary somatosensory cortex to vibrotactile stimulation suggest more overlap in afferent representations of individual digits than sensory perceptions elicited by ICMS (abstract 486.11)
The Johns Hopkins Department of Physical Medicine and Rehabilitation (PM&R), in collaboration with the Johns Hopkins University Applied Physics Laboratory and the Department of Neurology and Neurosurgery, has been awarded a grant by the Defense Advanced Research Projects Agency (DARPA) to conduct a clinical trial focused on recording and stimulating the brain of a person with tetraplegia. If you would like to interview the study participant and his care team, please contact Waun'Shae Blount, [email protected].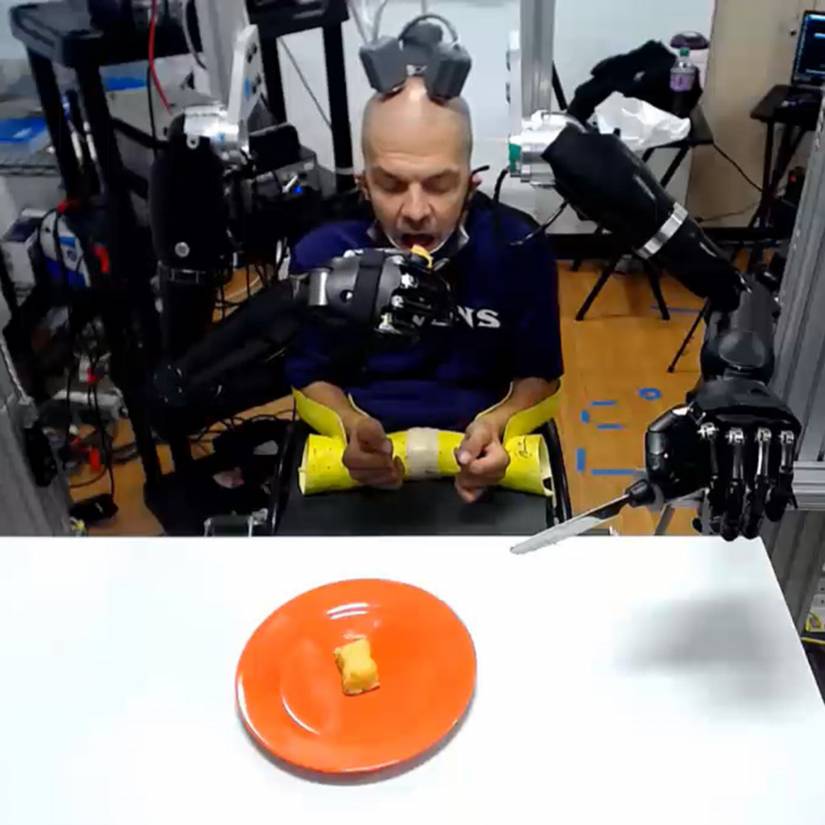 Credit: Johns Hopkins Medicine
Credit: Johns Hopkins Medicine