Newswise — No more worries for diabetics with weak muscles. The Metallurgy and Materials Science Research Institute, Chulalongkorn University will soon launch a cutting-edge, health innovation – a wristwatch that can check blood sugar levels from sweat in real-time. It's accurate, not painful, less expensive, and can replace imported equipment. It is expected to be available on the market soon.
The research team introduced the ultimate wristwatch that can measure blood glucose and lactate levels from sweat, received a Good Invention Award for Science and Pharmacy, 2021, and a collaboration with the National Science and Technology Development Agency (NSTDA).
According to Dr. Natnadda Rodthongkam, Deputy Director of the Metallurgy and Materials Science Research Institute, "Medical reports indicate that the level of glucose in sweat is directly related to blood sugar. So, we used this finding to innovate a device that helps tell the patient's glucose level in real-time. This is very important to the daily life of diabetic patients who must regularly monitor and control their blood sugar levels."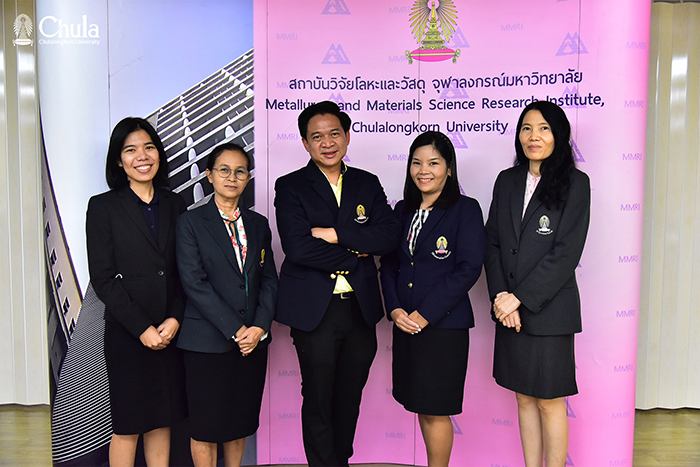 "Moreover, it helps reduce the burden of healthcare workers. Patients do not have to waste money and time traveling to the hospital and risk complications."
Diabetes is a common disease among the elderly. According to the Diabetes Association of Thailand's report, in 2020, up to 5 million Thai people suffer from diabetes. More importantly, diabetic patients also experience muscle weakness caused by the disorder of the immune and nervous systems.
Currently, the methods used to determine blood sugar level are by drawing blood from the fingertips according to the fasting plasma glucose standards for diabetics, together with a lactate test to measure the concentration of lactate. Patients with muscle weakness need to fast for at least one hour before they can draw blood.
"Knowing real-time blood sugar and lactate levels will help patients take care of themselves, adjust their behavior, or seek immediate medical attention before it becomes dangerous. We, therefore, devised a method that is faster, more accurate, and doesn't need fasting or drawing blood, "said Prof. Dr. Natnadda.
This Chula-NSTDA joint project has researched and developed a special yarn material that is biochemically modified to absorb sweat and is sensitive to glucose and lactate enzymes in a single device. Diabetics can monitor their blood glucose and lactate level anytime while wearing this smartwatch.
"This special yarn transmits the obtained data to a test sheet inserted inside the smartwatch case… to compare the measurement against a standard Calibration Curve. If the blood glucose is low, the color will be light, if high, the color will be dark, while the lactate value will appear even darker in color, "Prof. Dr. Natnadda explained.
Currently, the research team is testing the effectiveness of the watch on diabetics and weak muscles, with cooperation from physicians specializing in diabetes treatment and the Comprehensive Geriatric Clinic, King Chulalongkorn Memorial Hospital. After successful testing to ensure its performance, this device will be further developed to be used by real diabetic patients soon. The team also anticipates that this smartwatch will be popular among patients, and can help reduce the cost of importing high-priced medical devices from abroad.
Recommended For You