Claim:
The global death count of COVID-19 is much lower than other diseases including tuberculosis, hepatitis B, pneumonia, HIV/AIDS, malaria, and many others.
A graphic comparing various diseases through a bar graph contained this claim, which suggested that the magnitude of the COVID-19 pandemic was exaggerated and only caused "fake fear." It cited the US Centers for Disease Control and Prevention (CDC), World Health Organization (WHO), and medical journal The Lancet as its sources.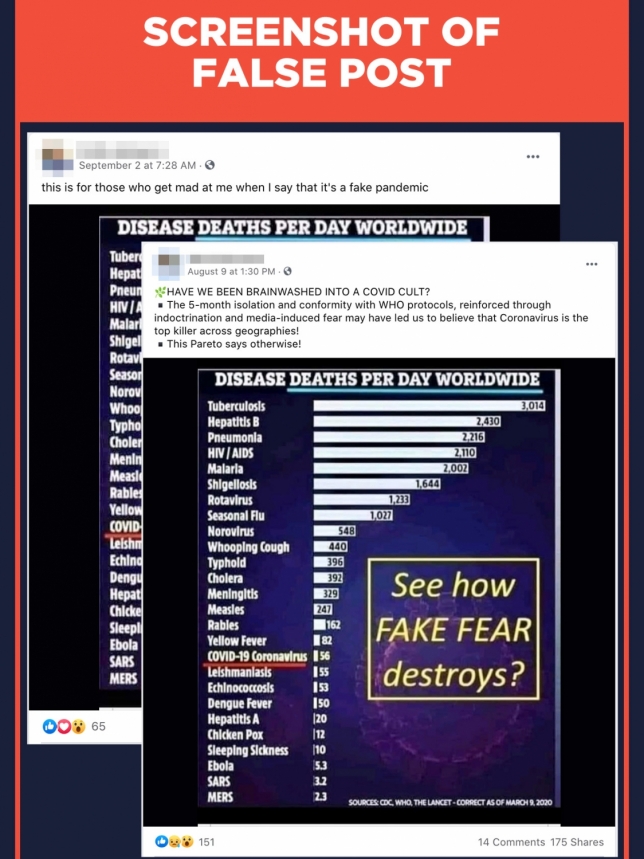 Claim Check, Facebook's monitoring tool, flagged a post containing the graphic for fact checkers to verify. It was shared on September 2 and was reported at least twice for containing false information. Social media monitoring tool CrowdTangle spotted a similar post that was shared on August 9.
Rating: FALSE
The facts:
The graphic used outdated numbers (as of March 9, 2020) that did not reflect the situation when the graphic was shared on Facebook in August and September 2020.
On Sunday, September 6, WHO recorded a death toll of 5,446 worldwide – about 27 times the daily death toll of 205 as of March 9. The death count per day started to rise toward the end of March, and has been fluctuating daily up to the present.