Newswise — "MALLO" mobile application endorsed by a silver medal from the 2020 Taiwan Kaohsiung International Invention and Design Expo that curates a variety of English- learning applications that users can add or delete at will is a great answer to digital-age learners who wish to set their own fun study plans.
Over two years of data collected from approximately 1,500 high school teachers and students across the country (sponsored by The Office of SMEs Promotion or OSMEP) show that the traditional English teaching model does not always work for the new generation of learners. Today's teachers and students want to design their own English learning curriculum.
Such finding urged Asst. Prof. Dr. Pornpimol Sukavatee, Department of Curriculum and Instruction, Foreign Language Division, and Assoc. Prof. Dr. Jintavee Khlaisang, Department of Educational Technology and Communications, Faculty of Education, Chulalongkorn University to develop MALLO (Mobile Assisted Language Learning Open Resources) application to meet the learning needs of the new generation.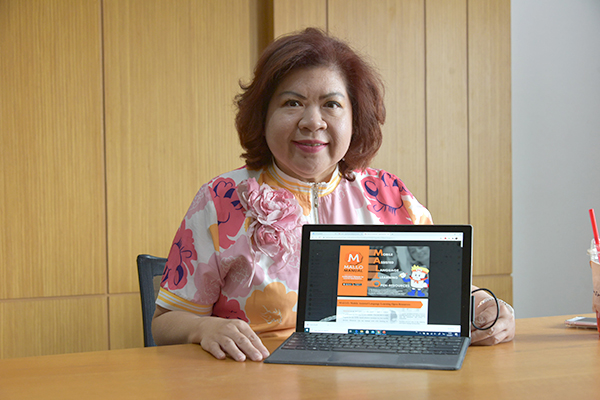 Asst. Prof. Dr. Pornpimol Sukavatee,
Department of Curriculum and Instruction, Foreign Language Division,
Faculty of Education
MALLO is a portal application resembling a gateway to a variety of resources for learning English. Teachers and learners can curate their favorite apps from CEFR (Common European Framework of Reference for Languages) — an international standard for describing language ability.
"MALLO motivates learners by using game-and-reward principles. Learners have fun like playing games while listening, speaking, reading, writing, enhancing their vocabulary and grammar from open resources. The key goal is for learners to accumulate achievements in an e-portfolio. Learners must pass 4 stages from egg to caterpillar to pupa and finally a butterfly. They will be rewarded with bronze, silver, and gold medals and these achievements can be shared on social media. MALLO also ranks learners in the weekly Hall of Fame, as well", Asst. Prof. Dr. Pornpimol said.
Today's technology is fast-changing, and self-paced study is crucial. A 50-minute to 3-hour class at school or university is not enough. Also, each learner has different backgrounds and learning potential, so it is necessary to support them in practicing their language skills at their own pace and have fun anywhere, anytime with technology.
The MALLO app is now available to download for both Android and iOS.