Newswise — The Halal Science Center, Chulalongkorn University, would like to invite all to join the virtual conference, International Halal Science and Technology Conference (IHSATEC) 2020-2021 and 14th Halal Science Industry and Business (HASIB), on June 1-2, 2021. The conference will be carried out via Zoom from 9.00 – 16.00 hrs. (GMT+7 Bangkok time zone). All participants are to submit articles for the oral or poster presentations for the academic session of Thailand's Halal Assembly 2021 before May 1, 2021.
Accepted conference papers will be published as conference electronic papers with DOI, ISBN, and indexed in Google Scholar. Several fields of study are included, such as Food Science and Nutrition, Food Safety and Management, Natural Products and Bioactivate Compounds, Biotechnology and Molecular Biology, Block Chain and the Internet of Thing (IoTs), Health and Physical Science, Nanoscience and Technology, Environment and Green Technology, Post Covid-19 Management, Digital Marketing and Data Driven Marketing, e-Business and Mobile Commerce, Artificial Intelligence (AI), Islamic Finance, and Cosmetic Science.
For more information, visit https://.ihsatec.com/.
The registration fee for paper submission is $150 USD (Presenter) and free for participants (Non-presenter).
For inquiries, e-mail info.ihsatec.com or [email protected],
or call +62 811-227-479, +62 812-331-733.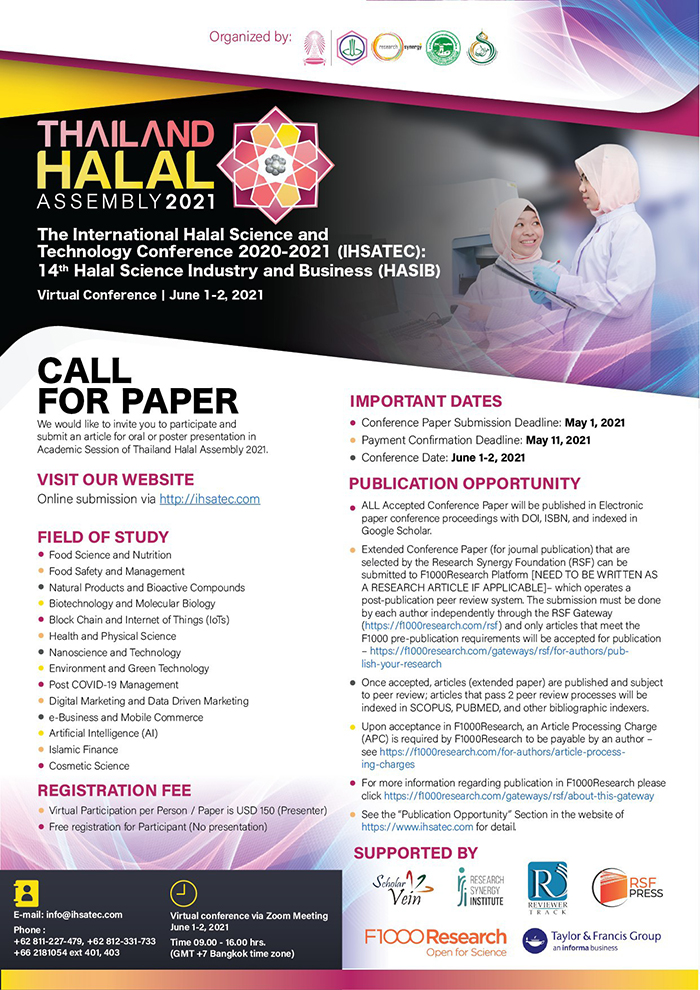 Recommended For You