Newswise — MORGANTOWN, W. Va. — Researchers across the Eberly College of Arts and Sciences at West Virginia University have moved quickly to donate personal protective equipment from their laboratories to healthcare workers on the front lines of the COVID-19 pandemic.
This week faculty and staff have filled more than 10 pickup trucks, cars and SUVs with gloves, masks, face shields, goggles, shoe covers, overalls and lab coats and delivered them to WVU Medicine. Since COVID-19 has caused most scientific research to temporarily pause, supplies can now be used to offset a nationwide shortage of personal protective equipment, or PPE.
Richard Thomas, professor and chair of the Department of Biology, helped coordinate this effort across the Eberly College. "I knew that there were shortages of PPE nationally, and when WVU Medicine put out a request I got in touch with them. I told them what we had in Biology, and it snowballed from there," Thomas says.
With totals still rolling in, the C. Eugene Bennett Department of Chemistry provided more than 62,000 pairs of gloves, and the Department of Forensic and Investigative Science offered up more than 600 full-body Tyvek suits.
Donations have come from dozens of Eberly College labs working in biology, chemistry, forensics, geology and geography, physics and psychology. Over the past several days, each of these departments inventoried their labs for any gear that would be useful for healthcare professionals.
Gregory Dunaway, dean of the Eberly College of Arts and Sciences, says, "I'm incredibly proud of the scope and speed of this effort by our faculty and staff. Thanks to our high volume of research activity, our laboratories have plenty of supplies, and they stepped forward with unflagging Mountaineer generosity."
WVU is rated as an R1, or very high research activity, institution by the Carnegie Classification of Institutions of Higher Education. The research done in the Eberly College contributes significantly to the total amount conducted at WVU.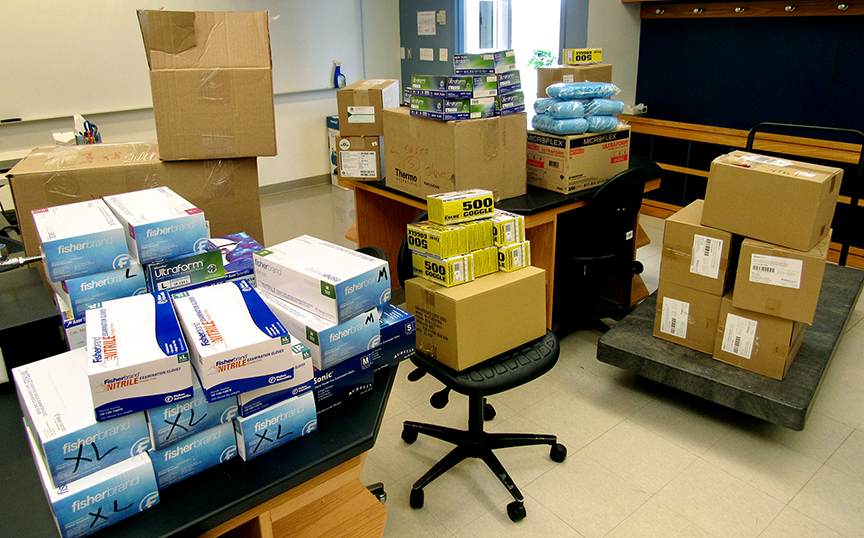 Credit: West Virginia University
Credit: West Virginia University
Recommended For You